STAFF ONLY


Salon 75
Peter bangs vej 75, Frederiksberg
Opening 17. January 18.00 - 21.00
18/1/2020 - 5/2/2020

As the years have passed, from 2017 until now, many wonderful beings have been through the cultural canal which is Salon 75. The clock is ticking, time went by and some of these beings hung on, those who did are now close friends. As anyone already might know, its fun to hang out with friends, especially if they share the same interest as you, which is art. So for the coming season of 2020, we intend to kickstart it all with a selection of works by the newly associated artists, or should I say, curators, of Salon 75. Whatever, it's a group show, you get the drill. We hope to see you all for a glass of something and hopefully a blue sky!

Sincerely,

Theodor Præst Nymark Jensen
Adam James Hommel Varab
Christine Dahlerup
Sofus Keiding
Frej Volander Himmelstrup
Hedvig Tygstrup Greiffenberg

Adam Varab
"rosie o' donnel principal. mass action. subordinate. tuesday 09:30 am. sunday
the 20's. past barbeque.
treat. me. ordain.
this is what we do. as you like. how we did it. tasty preserve.
sugar coded walk. lets go for a pituitary need."
Resin, artichoke, wood, metal, plastic
2020


Hedvig Tygstrup Greiffenberg
"EDEMA
(Edema
I heard her sing vibrating
and growing her body limbs, eyes
expanding everywhere into me
I saw her Feeding
on Gaia
and swelling from love)"
Soil, glue, bronze
2020


Hedvig Tygstrup Greiffenberg
"Permea (Transpass and I will split open)"
3 etchings
Coated copper plates
2019


Sofus Keiding Agger
"Changing scenery; building bricks"
Model bricks, wood, photo print, pins
2020


Theodor Præst Nymark Jensen
"Christopher Fen-Dweller (Hostbody)"
Iron, Styrofoam, faux moss, leaves and branches, Taxidermy European mole
2019



Christine Dahlerup
"For the walls not to collapse they need support from a large round ball"
Muslin, cardboard, pillow-filling, sewing thread
2020



Frej Volander Himmelstrup
"Navigate me through and then again"
2-channel video with sound
2019


Hedvig Tygstrup Greiffenberg
"ROOT
(Root
pointing out of this world and into
underworlds of foreign songs were you frightened my love I heard you sing)"
Bronze
2019


Yours To Keep


En soloudstilling af J.G. Arvidsson

Aktuelt fra d. 23 november - 13 december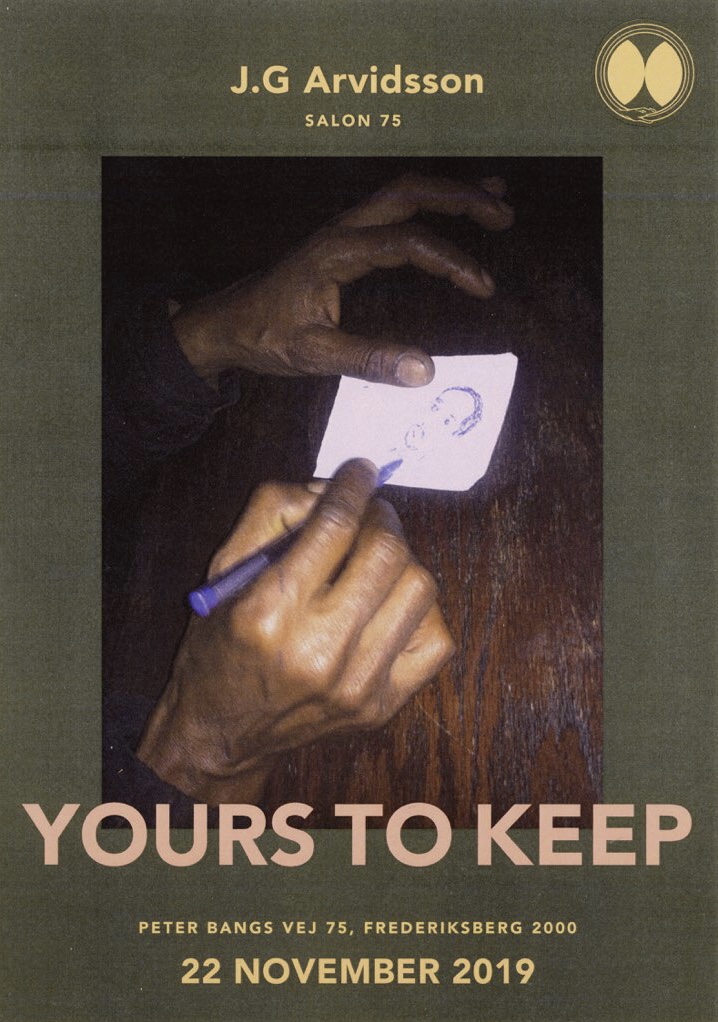 A Few Words With Bob


I invited Bob to come to show his works in our space Salon 75 (Peter Bangs vej 75) half a year ago. We spoke on Instagram, as you do nowadays, and agreed that it would be interesting to present a new body of work in the space. The profile of Salon 75 has always sought to be diverse and experimental, and the works of Bob appealed to me as being multimedia and driven by a speculative pseudo fictitious narrative that fits perfectly in the small 4 by 4-meter room.
Young as he is, Bob still stands strong in his way of composing a show and creating a melancholic atmosphere around his odd and surreal objects and pictures.With that in mind, his critics of a futuristic vision of culture are important in these times of our rapidly changing globalized society, something that is both seen within the fields of technology and the digitalized scene of contemporary art.
During the period of installing the exhibition by and with Bob Bicknell-Knight, we had some great talks about his practice and I thought that it would be suited to ask him some questions again for the internet, in which he operates around as a topic, to read.

- Theodor Præst Nymark Jensen





Theodor Nymark: How do you manage to balance between the different levels of understanding within your works. Are you creating the pieces with an intent to attach the description of the work, for people to grasp the concept fully and as a whole? Or do you open up the hermetics and maybe esoteric aspect, having the abstraction of the concept to be experienced solely through the obvious symbols and narraters?

Bob Bicknell-Knight: The majority of my work does begin with an initial concept, before I start making a sculpture or editing a video, although that original idea can distort and change during the making process, which it often does. I do like my work to be understandable and have a severe dislike of work that's solely abstract or conceptual, so at times the ideas that I'm generating can be a reaction to that type of artwork. I think the works on show for the exhibition at Salon 75 are on the more overt end of the scale, depicting Mark Zuckerberg as a trophy hunter. I think, at this point, Zuckerberg is a very familiar face, on the news and everywhere you look on the internet. I think (hope) that most people who use Facebook know who he is. That idea, combined with the activity of trophy hunting (hunting animals for sport and posing with their corpses) makes the work, at least at a base level, simple to understand. Of course, there's research involved in the work and more to it than a humorous image, as I like to make work that's accessible on a number of levels, but I think that initial draw is important. That's how you usually get people involved in a piece, the initial aesthetic. That's how I'm normally drawn in anywhere, aside from if the artist is famous and you already know their work.


"I don't think artists have to change their medium in order to keep up with consumer culture."


TN: Dealing with the notion of craftsmanship in the arts in the 21st Century. How do you position yourself as an artist working with found material, 3D printing, digital manipulation etc. How do we in these times, navigate in the field of arts, with this particular aspect in mind, if the consumer culture dictates the fast evolving accessibility? Should we as artists follow that exact same pace or should we negotiate on this conservative term?

BBK: I don't think artists have to change their medium in order to keep up with consumer culture. It does dictate the accessibility of these new mediums, like 3D printing, which you can now do in your own home due to the reduced cost of the machines, but I don't think artists are going to stop painting anytime soon just because a machine can do the same thing. Consumer culture drives the creation of new things for us, as consumers, to consume. As artists we are free to utilise these new tools and technologies, but not necessarily for their intended purpose. I think it's a rarity for consumer culture to evolve because of what an artist wants or needs. My biggest problem with artists using these new technologies is the fetishization of the tech, only using 3D printing, VR, etc because they can, rather than because it makes sense to do so and is in line with the concept of the work.

TN: As an artist working with actual personas in the narratives that you construct, do you ever face any moral or ethical complications?

BBK: I think this is the first time that I've made a whole body of work concerning one specific person. From my point of view, I think Zuckerberg has distorted the world and society as a whole, and not necessarily for the better, making him an incredibly problematic and disturbing person who wields a huge amount of power. So, to answer your question, I'm not worried about portraying him in this way, as a trophy hunter who hunts and kills animals for sport, as I believe that he's done far worse, both in public and private situations.

TN: Like the concept of craftsmanship, how do you deal with the idea of working as a multimedia artist, not practicing any particular medium, and thereby not having a certain go to material dictating the evolvement of your general body of work?


"I think and hope that my work is directed at the present or the future, but definitely not the past."


BBK: For me it's a fantastic way to work, focusing on concept rather than any specific medium. Being a multimedia artist allows me to physically make anything for any situation, and not to be constricted to any particular material. As I said before, allowing the idea to come first is quite important within my practice, so

being open to working in any medium suits my way of working well. It's also great in relation to exhibition opportunities, as I have a work for every medium. So, if I'm in a show in America I can just show a video, for example, or if they have a bigger budget I could send a sculpture. I like to be adaptable and able to produce work for any situation that may present itself.

TN: How do you position yourself in the history of art as a contemporary artist? Are you concerned with your work being directed towards, and not backwards, futuristic exploration?

BBK: I think and hope that my work is directed at the present or the future, but definitely not the past. I think that's something I'm less concerned with, connecting my work to the history of art making, etc. I'm more interested in the now, and what's happening in this moment. Obviously that doesn't mean I don't appreciate art, made in the past but also about the past, but for me and my work it's not something I am particularly concerned with at the moment.

TN: Okay Bob, last question for now. Maybe it is a bit tricky. How would you describe the tendencies of the young British art scene in these days, and is there actually any tendencies which isn't just as global as national?

BBK: I don't really know, and am probably not the best person to ask! Everything seems to be broken in the UK at the moment, from Brexit and racist politicians to tuition fees increasing, making it more and more difficult to gain a college education. I think everything becoming fragmented isn't just happening in the UK. The world also seems to be slowly collapsing. In terms of art, who knows, that's something I'm less concerned about at the moment!



From Green to Grey




En soloudstilling af Nushan Rose Roshani

Udstillingen består af en mixed media installation,
som dykker ned i fortællingen om en ung kvinde og
hendes usædvanlige dobbeltliv.

Fernisering fredag d. 20 september
Aktuel fra d. 21 september - 4. oktober.

Bob Bicknell-Knight
State of Affairs

Opening 9th August 2019
10th August – 1st September 2019
Salon 75, Peter Bangs Vej 75, 2000 Frederiksberg, Denmark

Salon 75 is delighted to present State of Affairs, the first solo exhibition in Denmark by artist, curator and writer Bob Bicknell-Knight.

Working within several different mediums, Bicknell-Knight's work responds to the hyper consumerism of the internet, drawing from a unique sensibility influenced by participation in online communities and virtual games. Bicknell-Knight's work explores the divergent methods by which consumer capitalist culture permeates both online and offline society. Utopian, dystopian, automation, surveillance and digitization of the self are some of the themes that arise through Bicknell-Knight's critical examination of contemporary technologies.

In State of Affairs, Bicknell-Knight exhibits new and previous work in and around an aluminium modular extrusion system, used in office partitions and conveyer belts, concerning the news media, data hacking, and Mark Zuckerberg, the founder and CEO of Facebook.

Zuckerberg is a private person with a carefully crafted public persona. In public he preaches about digital transparency and encourages users of his social media platform to share as much as possible about their daily lives, stating that the world will become more open and connected by doing so, that a world that's more open and connected is a better world. Simultaneously, in his private life, Zuckerberg purchased four houses around his home in Palo Alto, California, in 2013 for a total price of $30million. This was due to fears that a property developer was going to build a tall building behind his home, enabling the owners to see into his backyard. A transparent 3D printed sculpture of Zuckerberg's home (Mark's House, 2019) is present within the show, created by studying Google Maps' in-depth satellite imagery.

In a series of new paintings (Mark's Firstand Mark's Second, 2019) Bicknell-Knight looks into the psyche and moral compass of the Facebook founder. Within the works Zuckerberg is portrayed as a trophy hunter, individuals who hunt wild game for recreational purposes. In a recent interview with Rolling Stone, Twitter CEO Jack Dorsey stated that there was a year when Zuckerberg was only eating what he was killing and had a penchant for goat meat. Supposedly he would stun goats with a taser, cut their throat with a knife and have their bodies sent to a butcher to prepare. Being served goat for dinner whilst attending a dinner party at Zuckerberg's house was Dorsey's most memorable encounter with Zuckerberg. The new paintings imagine that Zuckerberg took this interest in animal killing further, becoming a trophy hunter. At the end of a successful hunt, the hunter will usually pose next to the slain animal for a photograph, to be distributed to friends and family members.

Other works in the exhibition include a replica of Zuckerberg's grey t-shirt (Mark's Shirt, 2019) that he wears every day, a Facebook thumbs up hat (Mark's Hat, 2019), and a custom printed zip top handbag (Unattended Bag, 2018) depicting a slogan that was part of Facebook's advertising campaign after the Cambridge Analytica scandal. Inside the bag is a USB embedded within a gold 3D print of the CEO's head, containing Bicknell-Knight's Facebook data from the past ten years.

The final artwork in the exhibition is a recent video commissioned by Daata Editions (State of Affairs, 2018 – 19), a compilation of footage from the YouTube channel News Direct, in which daily news stories, from self-driving buses to social media bots, are transcribed into 3D rendered animations. Non-linear in presentation, the re-appropriated video work illustrates current and future modes of technological interface, from facial recognition software to drone surveillance. Executed in a dated Y2K aesthetic, the work is dystopic and utopic all at once. Akin to the unconscious rituals implemented while existing on the internet, opening tab after tab, clickbait after clickbait, State of Affairsmirrors the inconclusive narrative of our digital lives. The visual content is accompanied by a soothing, melodic soundtrack and augmented voiceover, forewarning of the future of gamified spaces and digital death. The video is contained within a 3D printed USB of the Facebook logo, with Zuckerberg's face embedded within.

A recently published book by Bicknell-Knight with the same title of the exhibition is also included in the show. The book contains several texts that have been written over the course of a number of years, from exhibition press releases to academic essays, concerning new technologies, future fictions and simulated spaces. The texts are placed alongside a series of stills from the newly commissioned video.

Bob Bicknell-Knight currently lives and works in London, UK.

Selected solo exhibitions include CACOTOPIA 02 at Annka Kultys Gallery, London, UK (2018), Sunrise Prelude at Dollspace, London, UK (2017) and Are we there yet? at Chelsea College of Art, London, UK (2017). Selected group exhibitions include Late Stage at Galerie Manque, New York, USA (2019), Life and Beyond at Lewisham Art House, London, UK (2019), Towards the Last Unicorn at 55SP, São Paulo, Brazil (2019), Trust Is The Ultimate Currency at Harlesden High Street, London, UK (2019), GROUND ZERO EARTH at Alison Richard Building, Cambridge, UK (2019), They Live at Platform Southwark, London, UK (2019), To cite a body at Sluice HQ, London, UK (2019), Inside Intel at Goldsmiths, University of London, London, UK (2018), Total Power Exchange at Galerie Manque, New York, USA (2018), Paper Cuts at Saatchi Gallery, London, UK (2018), Terms and Conditions May Apply at Annka Kultys Gallery, London, UK (2018), The Museum Has Abandoned Us at State of the Art, Berlin, Germany (2017) and The Choice of a New Generation at The Muse Gallery, London, UK (2017).

Bicknell-Knight is also the founder and director of isthisit?, a platform for contemporary art, exhibiting over 800 artists since its creation in May 2016. Online, it operates as a gallery producing monthly exhibitions showcasing emerging to mid-career artists, hosting a roster of guest curators experimenting with the medium of the internet to interrogate a variety of concepts. The website also hosts monthly residencies, where artists are given a web page to create new work that exists on the internet as a piece of net art. Offline, it has held exhibitions nationally and internationally and is the publisher of isthisit?, a book series released on a triannual basis.

Bicknell-Knight has spoken on panel discussions and given artist talks at Tate Modern, London, UK (2019), University of Cambridge, Cambridge, UK (2019), Camberwell College of Arts, London, UK (2019) and Goldsmiths, University of London, London, UK (2018).